From Students Who've Studied
at Kyle's Schools:
I am a therapist and I own my own practice in Ponte Vedra Beach, Florida. I get to help change and improve people's lives on a daily basis. It's the most satisfying and rewarding way I could ever hope to make a living. Graduating from one of Kyle's former schools made all these opportunities possible. It really did change my life.
Chad Jasmine, LMT, NCTMB
Ponte Vedra Beach, FL
---
In almost twenty years of practice and who knows how many continuing education courses I have taken, there have been two styles that have defined how I practice. The work I learned from Kyle – "Playing The Edge", neuromuscular, and structural rebalancing and so much more. His training has lead to my career working with neurologists, neurosurgeons, Ob/GYN, and pain specialists and has been especially influential in shaping my role in rehabilitation. Thank you for your amazing gifts.
Joe Durant, LMT
Brunswick, Georgia
---
The instructors here are among the best in the industry. I couldn't imagine a greater opportunity to get a stellar education in this industry.
Gina Canzano
---
I have been a full time massage therapist working in high end resorts for over 14 years. My massage techniques have consisted primarily of Swedish, Deep Tissue, Hot Stone, Lymphatic Drainage and Reiki. My clients have been very satisfied with my work but I knew that I was missing some very important skills to be able to treat them more effectively for soft tissue pain or structural alignment. I have taken various courses in medical type massage over the course of a few years. It wasn't until recently that I had received a diploma in Kyle's advanced massage therapy course to enhance my massage skills. I am so grateful that I have taken that course. It has transformed my skills and has taken my massage career to an even greater level. I cannot thank Kyle enough for his knowledge and teaching skills. If you are thinking about a career in massage and want to have a head start in your skill level over many other schools, then I cannot recommend NCSAB enough.
Stacey Pederson, LMBT
Asheville, NC
---
As a Doctor of Physical Therapy, studying with Kyle at NCSAB helped me to hone my soft tissues skills and take them to another level. I now have something beyond my general soft tissue training in graduate school to help my patients that have soft tissues injuries, including strains, sprains, and inflammation. I know the pain referral patterns, as described by Janet Travell & David Simons, and the different ways that certain injuries and disruptions may present themselves in the clinic and in every day life. I also know ways to sink deeply into muscle and fascia without overstimulating a patient, or causing too much pain. If you're considering a career in massage therapy, but want to help your clients do more than just relax, look no further than NCSAB. This school will go beyond the basics and provide you with an "edge" that will help your career just as much as it will help your clients.
Tricia Renshaw, DPT
Asheville, NC
---
The North Carolina School of Advanced Bodywork is a world class institution where students are given the tools to become a specialist in soft tissue pain. I was searching for a career that would excite, challenge, and inspire me. Admittedly, I was nervous to take the leap. We all desire to have work to be proud of and passionate about and, of course, make a comfortable living. The first week of class dispelled any doubt and I was convinced I'd found what I was looking for. After graduating from NCSAB and working as a clinical bodywork therapist, I can truly say it has been a blessing and the best secular decision I've ever made. Kyle Wright and his staff are so knowledgeable and totally invested in their students success. I cannot say enough good things about this school and will be forever grateful to Kyle, Kimberly, and NCSAB. You owe it to yourself to check it out!
Jessica Lavender, LMBT
Asheville, NC
---
NCSAB is a top notch school, with an excellent curriculum. The phenomenal work that Kyle Wright has developed with the help of David Scott Lynn's 'edge' work, gave me a very advanced knowledge of the parasympathetic nervous system and how it can be used as a facilitator of massage. I was also given some excellent methods to help assess our clients pain and sound methods for treatment. After working with other massage therapists in practice sessions it became clear to me that I was given a very solid foundation with to build a practice on.
Jeffrey Beadle, LMBT
Asheville, NC
---
NCSAB does more than just set a foundation for a new LMBT. With Kyle Wright and his crew of master practitioners/teachers, this school will teach you how to relate to physical pain in a whole new way. During my training at NCSAB, I learned a survey of massage modalities like Thai, Swedish, and structural bodywork. The clinical side of this program (a.k.a. structural balancing) is steeped in the philosophy of what we like to call the "edge technique." The Edge is that perfect amount of pressure that speaks to the nervous system in a way that allows it to relax into the naturally healing parasympathetic state. Clinical bodywork should be the first approach to any musculoskeletal pain, as it is utterly noninvasive and holistically effective. I can highly recommend NCSAB's approach to healing facilitation.
Ryan O'Millan
Asheville, NC
---
I first heard about Kyle's work when people I knew went to him for bodywork to get out of pain issues they had. They were so impressed and freed from pain, that I decided to take one of Kyle's Continuing Education courses (I'm a Massage Therapist). I was SO blown away from what I learned in that one course. I signed up for another and another, and then I decided I just had to know everything this man could teach. I signed up for his 6 month course on bodywork that coincides with the massage school.
My business has never been the same since. Not only has my knowledge of muscles and their physiology sharpened, but when people come in to see me because they're in pain, I know how to truly help them instead of just massage over the painful area. Nothing gives me greater satisfaction than to be able to see the relief in a client's eyes when they get off the table and feel better. Since learning bodywork from Kyle, my percentage of return clients has increased dramatically and I get more referrals as well!
Many times I see people who have been to numerous therapists and/or Dr.s with no improvement, and after one session of bodywork, they feel a sense of relief. If you're looking for a good massage school, you must check out North Carolina School of Advanced Bodywork. You learn everything a massage school teaches, but you receive top notch bodywork instruction as well that will set you apart from the average Massage Therapist. I am proof! That, my friend, is the golden ticket.
Merry McConnell, LMBT
Johnson City, TN
---
Having been a licensed massage therapist for 2 ½ years, I was astounded and somewhat embarrassed about how little I actually knew about getting people out of pain.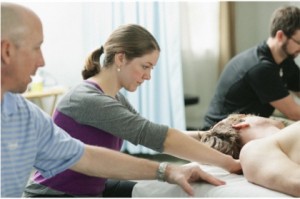 After my second class at NCSAB my clients were noticing a change in my quality of touch and direction of my treatments. The North Carolina School of Advanced Bodywork's philosophy and instructional methods are setting the standard that I hope other massage schools will endeavor to achieve.
This class has literally changed my focus, approach and quality of care that I'm now able to offer my clients. I'm currently receiving 3 times the number of referrals that I used to get.
Thank you so much NCSAB for helping me become the type of therapist I envisioned before coming into the massage & bodywork career field.
Ric "Doc" Michael
SC LMT Lic. #5296
---
If you are wanting a career in massage and are searching for a great massage school, look no  further than North Carolina School of Advanced Bodywork in Fairview, NC. I researched schools in Northeast TN and Asheville, NC, and I found what I was looking for at NCSAB. Kyle Wright and his team of instructors are available, enthusiastic, and more than willing to provide the best training during your six month education period. Plus, they have an open-door policy after graduation. 
Why is this school different? NCSAB provides training in the benefits of massage and massage therapy techniques, but they also provide in-depth  training in soft-tissue pain. The training focuses on muscles that are "locked" short from chronic, excess muscle and nerve tension and muscular imbalances that are connected to musculoskeletal pain, restrictions of body movements, and poor posture. Come sit in on a class. You will be amazed. 
I am completely satisfied with my choice in schools.
Yvonne Griggs
Greeneville, TN
---
All I can say is I am so lucky to have found The NCSAB!  I give thanks at least once a day for what Kyle and the amazing teachers at NCSAB have taught me.   The education you get here you will not find anywhere else.  Having graduated just over a year and a half ago I am leagues ahead of even seasoned therapists in my approach to bodywork.  You are not just learning massage, you are learning a unique set of skills and a way of thinking about the body that will make you stand out as a therapist.  What I have come across with other therapists is that what they were taught in their initial training is often times wrong and they have to unlearn a lot of what they were taught.  It is much easier to continue building off a solid education than having the challenge of forgetting everything you learned. If you are someone who wants to be the best in your field and make a difference in peoples lives then this is the school for you.
Jennifer L. Wick, RMT
Boulder, CO
Class of March 2012
---
Attending NCSAB was one of the most enjoyable and mind-opening experiences of my life. The real-world skills offered were invaluable to my gaining a true understanding of what it means to be a massage therapist in the health care field. All of the teachers, especially Kyle, are genuinely interested in developing a high standard of practice, and there was never a dull moment. They taught with engaging methods, made hands-on learning a priority, and consistently incorporated the concept of balance on every level. Top-notch is the only way to describe the skills, people, and facilities offered at NCSAB. 
Dianne Marchand
Class #13, August 2012
---
When I started looking into massage schools, I wasn't even sure about becoming a massage therapist. I knew I wanted to work with the body and help individuals in pain, but many of the massage programs I looked into seemed to have a very broad, general curriculum. I wanted a program that would give me a solid foundation in anatomy, a thorough understanding of kinesiology and structural assessment, and proven techniques for treating myofascial pain. Well the curriculum and staff at NCSAB delivered all that and more. I feel like I've graduated with all of the above as well as having a support team ready to help me for years to come. NCSAB really is a top-notch school driven by educators passionate about bodywork, and I certainly have no regrets about enrolling.
Zach Brown, LMBT
Brown Mountain Bodywork
Asheville, NC
---
I am so glad I chose NCSAB for my Massage Therapy training. The education I received was exceptional. The instructors are extremely knowledgable, great communicators and very passionate about massage therapy. The small class size ensured that I was able to interact with the instructors regularly. The focus on clinical assessment and treatment techniques has provided a solid foundation for me to build my practice on. I am so thankful to have had the opportunity to learn some of Kyle's techniques so early in my career. Working as a Massage Therapist now, I believe that this quality education has given me a head-start in the field.
Grace Love Clayton, LMBT
Clyde, NC
---
I will forever be appreciative to Kyle Wright and the entire staff of NCSAB.
My experience there has given me the opportunity to finally love what I do!
I feel I earned an education in bodywork that is second to none. The advantage of having a school of this caliber in the Asheville area is truly amazing!! I still miss being in class! Forever Grateful!
Cricket Haake
2011 Graduate
---
I wanted to take a moment to communicate my experience and especially my appreciation for your Director, Mrs. Williams.
From the moment I first inquired, Kimberly has been thorough and professional.  I was somewhat unsure of entering into a new and unfamiliar venture.  Kimberly understood and was very clear in communicating the mission and climate of NCSAB. She was not pushy, but warm and reassuring.
She has taken the time to explain everything so thoroughly and has even taken my calls after business hours. This is not to take anything away from any of the other wonderful people at the school. Everyone has been terrific and I'm very happy with my decision to enroll.  However, Im not sure I would have taken that first step it it weren't for Kimberly.
Thank you Mrs. Williams!
Jeannine Abbey
Charlotte, NC
---
After 10 years of being an LMBT, I took one of Kyle's CE classes and was completely blown away; so much that I enrolled as a student at NCSAB, driving 2.5 hours each way from Winston Salem to Asheville.  Learning Kyle's approach was a complete game-changer for my career. Years later, my practice has completely evolved, I'm seeing lasting results, and have breathed new life into my work. Getting that "Wow" effect from clients is so fulfilling, knowing I'm making lasting changes in their structure that finally gives them relief from their chronic pain.  There are no words that convey how highly I regard Kyle and his passion for his work. I feel honored and privileged to have found NCSAB, and cannot recommend it enough for new students or licensed therapists.
Jenny Pruitt
Winston-Salem, NC
---
On August 6-7, 2016, I was able to attend Kyle Wright's "Rotator Cuff/Frozen Shoulder CEU course. Playing the Edge was his focal point. Approaching with specific bodywork to the targeting areas, assisted ROM, and applying suitable pressure to create comfort and pain relief.
An understanding to take your time with each applied pressure. As a therapist, my assessment and treatment's with my clients has improved. My confidence level has increased, my awareness is strategic and patient level is comforting. Kyle's patient level, direct approach throughout the seminar towards the attending therapist and information given was PHENOMENAL. I have
been waiting 8 years to meet Kyle and the wait was worth it. His expertise reassured I was completely heading in the right direction. A THANKS AND BIG UPS TO KYLE!!!!
Edward Wright
Charlotte, NC
---
In 2009, I decided to change my career path and become a Massage Therapist. I was lucky enough to go to one of Kyle's schools, Southeastern School of Neuromuscular Therapy, Charlotte, NC 2009. The school and instructors were amazing, giving me a deep footprint of the Muscular System, Human Anatomy and exposure to different modalities which I had no idea existed.
The first time I got to meet Kyle was in 2011, he came to Charlotte, did an explanation on soft tissue manipulation, the "Edge technique" and performed a demo of Releasing the Psoas. Assessing the body to open the correct side, then went to work. It was impressive how fast he could connect to the client. Using verbal words and his strong awareness allowing the connection between him and the demo client to immediately connect.
Kyle's school NCSAB was in Fairview, NC, a short distance so that was a no brain-er where I would do some of my continuing education. Since then I have attended all of Kyle's CEU's up to this point, EVERY class gaining new techniques, more awareness, loads of knowledge and most of all how to find the root of the pain, not just chasing the pain.
I am thankful for the knowledge taught by Kyle, his techniques are unique and 100% effective. If you want to take your body-working skills up levels, I urge you to take his courses or better yet attend one of his Schools of Advanced Bodywork.
Get ready to be "wowed" and get ready to help change your clients
lives.
Most Appreciative
Bobby Wilson, LMBT
Brevard, NC
---
I truly can't express how grateful I am for the education I received at NCSAB.  I am known as "the different therapist" around my town, and my clients are always amazed at how much I am able to help them.  The education gained during my time at NCSAB is the reason I have a thriving business, because they ensure you are ready when you graduate.  Classroom time is of the highest quality, and table time is daily!  Clinical time helps you prepare for the real world! I still take notes on my clients and send reminders and follow up, thanks to the clinical education of the program.  Kyle's techniques cannot be compared, and I feel like one of the lucky ones to know and use those techniques.  Thank you to Kimberly for being Momma bear and teaching me the ins and outs of keeping a business going.  You didn't have to do that, but I know you knew that I wanted to learn, so you did it anyway.  Thank you Kristi, Althea, Jessica and Conway: I thank God for all of you and use the tools I learned from each of you everyday.  And Kyle, thank you for taking your God given talent and sharing it with the world.  The world needs you.  I am so blessed to be a graduate of NCSAB!
Loni Dinwiddie
Greenville, TN
---
As a graduate of a Southeastern School and already being familiar with many of your techniques relating to structural bodywork, my personal expectation was for a simple yet thorough refresher. Though I was successful in renewing knowledge previously gained, I was quite pleasantly surprised at the shear content of the weekend and the ease with which it was presented. I was impressed with your ability to segue from one body component to the next and so adequately build the foundation for solid and effective structural bodywork; also, appreciated was the additional coverage of the body not specifically addressed in the weekend syllabus.
That you were able to include such quantity of content and still maintain an understandable rhythm is evidence that students entering your personal program will gain so much more than from traditional curriculums. Add to that the passion experienced by learning directly from the originator of the program and not just another instructor and it will all add to a marvelous and enriching education. Please accept sincere thanks for the best training I have yet experienced! Also, my best wishes for you and a very bright future in the Charlotte, North Carolina!
Steven Bell, LMBT
Statesville, North Carolina
---
We have hours each day where silence and tranquility surround us.  I was drawn to the stillness of a quiet dark room.  Most therapists would say they went into our field because they loved helping people.  That wasn't always the honest answer for me.  I became a massage therapist because I knew I could make a good living.  Enjoying what I did came later, helping people long term with pain also came later in my career.
As a therapist we have a certain kind of freedom woven into our jobs.  Rarely do we deal with upset clients because everyone loves a Massage Therapist.  I enjoyed interacting with people and looked forward to helping my clients escape from the anxieties and daily stress they brought with them.  But after 4 years I was bored in the luxury spa industry.  I longed for more from my massage than relaxation and I felt unprepared to handle the pain my clients suffered from on a daily basis.  I followed my hands and trusted my intuition but I often felt helpless to produce lasting change within my clients bodies.
I knew a shift needed to happen and identifying what new skills I needed to acquire was the first step when I found NCSAB.  Taking a clinical approach to massage has fundamentally changed my perspective regarding bodywork and my career.  The more I learn about the human body the more amazing it has become.  I am now in a position to help injured people heal, improve their range of motion, and increase muscle function.  There are many different kinds of healers in our profession and I am extremely proud to be known as a Clinical Massage Therapist who has graduated from the North Carolina School of Advanced Bodywork.
Drea Darnell, LMBT
Charlotte NC
---
I recently attended a presentation by Kyle Wright that was held at the Florida School of Advanced Bodywork in Jacksonville, FL.  First, I must say Kyle is an amazing speaker who captures everyone's 100% attention.  He explains his bodywork techniques, relates real-life situations and conditions into his presentation allowing anyone to be able to relate to pain that Kyle is getting people out of in his daily practice.  His passion shines and he shared his big "Why" of what de does and why.  He showed in many ways the value of his program he offers for prospective massage students versus other massage schools training.  He takes his bodywork training and application of bodywork to the upmost highest level.  I am a licensed therapist and have been for 21 years and would love to learn everything I could from Kyle.  His heart is in the right place and his goal is to train all future and current therapists to the highest level with the best training and techniques to get clients out of pain.  He has no reservation of sharing his knowledge and that is what makes for a great educator and he is able to deliver the message in a way people can understand.  Thank you Kyle for your continual passion in developing such a highly skilled therapists that graduate from your school.
Jane Moore, LMT
Jacksonville, FL
---
One day while attending a workshop on various healing modalities, we had the fortunate opportunity to  meet Kyle Wright, owner and director of the North Carolina School of Advanced Bodywork (NCSAB).  We were both so awed by the bodywork this man did on attendees that day, (one of them being Mariana), that we decided to attend a few intro classes at his school.  We were so impressed with the school that we both decided to enroll in the next semester of classes!  Mariana took training to obtain her massage license and we both took Kyle's advanced training classes in structural alignment, neuromuscular therapy, and "The Edge" method.
Dan & Mariana Watson
The Massage Duo
---
It was pretty intense, taking the standard massage training in addition to the advanced class that Kyle taught each week, but it was well worth the effort!  I am so thankful I found this school before registering somewhere else.  If you want to be the kind of therapist that actually knows where and how to treat pain, this is where to get your training!
Mariana Watson
---
I knew from the moment I saw how skillfully, quickly and effectively Kyle was able to assess and treat pain that I wanted to study with him.  Having been a massage therapist that focused mainly on relaxation massage, I instantly knew that this was the next step I'd been looking for to take my work to a whole new level.  Looking back over the last 20+ years, had I known then, what I know now, (after taking Kyle's advanced bodywork course), I can only imagine how much greater the results would have been towards treating my clients.  I highly recommend Kyle's program to any massage therapist looking to seriously advance their work, especially in the treatment of pain. We LOVE this school!  If you'd like to ask us more about NCSAB contact us via the school any time!
Dan Watson
---